DeWolfe, Fiske and Company (early 1880's)
In the early 1880's this company published School Days in the Popular Twelve mo. Classics. It has been seen with several cover colors.

DeWolfe, Fiske and Company was founded in 1880 by Perez Morton DeWolfe and Charles F. Fiske. This Boston firm began at 365 Washington. This house mostly published reprints frequently in series form. In the 1890's it was well known for its large chromo covered juveniles. The name was changed in 1905 to DeWolfe and Fiske.
| | |
| --- | --- |
| | Dust Jacket |
Dust Jacket Reverse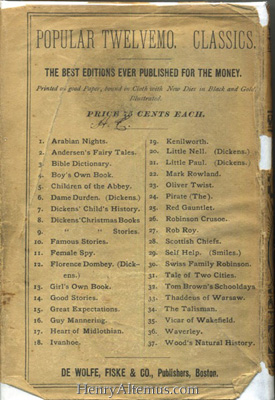 Click images to enlarge.