The Mershon Company (late 1890's-1907)
William Mershon's namesake company was mainly a printer until the early 1890's. Thereafter it published the books of several bankrupt companies (Cassell & Co., Merriam Company) in the mid to late 1890's and by 1899 was publishing new titles under its own imprint. (The Rover Boys is a good example). It continued to publish juvenile titles as well as publisher's series until 1905 when the name was changed to the Stitt Publishing Company. Stitt went bankrupt in 1906 and Mershon took over until 1907 when Chatterton-Peck Company published the Mershon list.
Mershon Bookmark (Pre-1902)
Mershon published the Tom Brown books in several different series. The series names are mostly unknown. Both titles were however included in the Wideawake Series which was a large juvenile series with multiple different covers. Of note in dating these books is that the title page listed Rahway, NJ and New York beginning in 1902 whereas pre-1902 books only showed New York on the title page.

Both titles were also part of the 1901 Winona Series. These books are 12 mos.

The Red Library also included both titles as #'s 203 and 294. It was published in 1902.
Favorite Library 1899 (Both titles)
Regal Series- Post-1902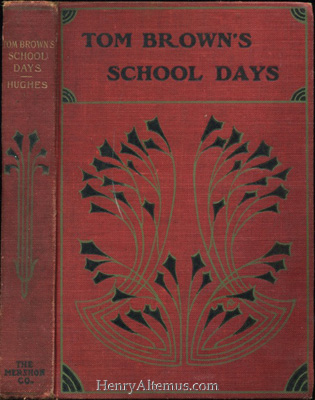 Wideawake Series
Winona Series 1901
Click images to enlarge.