Reid, Murdoch and Fischer (1885-1886)
In the 1880's a number of non-book publishing companies printed publisher's series. These multivolume sets contained numerous reprinted classics. Reid, Murdoch and Fischer published such a set in the 1885-1886 era. The exact titles are unknown (at this time) but at least one of the Tom Brown books- Tom Brown's School Days was published. I have not seen that book but below is a representative book from the series.
| | |
| --- | --- |
| | |
Simon Reid and Thomas Murdoch opened their first store in Dubuque, Iowa. This store was basically a dry goods business with the idea of supplying western bound settlers. They moved their establishment to Chicago in 1865 because it was such a major traveler hub. Their first building burnt down in the Chicago fire of 1871. Thereafter they relocated to another facility on the corner of Lake and Market Streets.

Frederick Fischer, a native of Galveston, had been a partner in the Chicagoland wholesale grocery firm of Satterly, Cook and Co. He joined the newly arrived Reid and Murdoch in forming Reid, Murdoch and Fischer. He left the company around 1888 and the name reverted to Reid, Murdoch and Co. By 1899 Reid, Murdoch was the largest wholesale grocery store in the United States. By 1914 the Lake and Market Street facility was too small and a new building (now a preserved landmark which houses various city governmental offices) was erected on the Chicago River between Clark and LaSalle.
| | |
| --- | --- |
| | |
(Courtesy of the Chicago tribune)
1914 Reid, Murdoch and Co. Bldg. on the Chicago River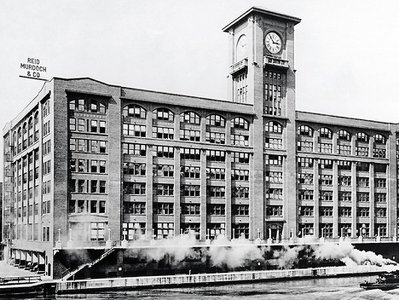 Click images to enlarge.