The F. M. Lupton Publishing Company was one of a myriad of houses that published numerous reprints of older works in a multitude of series. These series were distinguished from each other by different decorative covers. Lupton published series both in paperback and hardcover. Most of the hardcover series contained reprints of popular works. Among the titles and authors were Alice in Wonderland, Doyle's A Study in Scarlet, reprints of Charles Dickens, Henty and Shakespeare.

Despite frequent listings to the contrary, all of Lupton's non paperbacks were issued in boxes or in dust jackets. So it is safe to snicker at those dealers who note in their ads: "No jacket as issued".

This New York publishing house was founded by Frank Moore Lupton (1854-1910). Lupton grew up on Long Island. He initially apprenticed to a printer in Greenport. Thereafter he worked for S.W. Green in his publishing firm.

In December, 1875 with the F. M. Lupton and Co. imprint, he and two of his friends, Stuart H. Moore and J. Victor Wilson, took over the publishing rights of the literary periodical, Cricket on the Hearth. It was " An illustrated journal of literature, romance, useful knowledge, etc.". This large sized magazine was published by Lupton until it merged with The Ladies' World in 1889.

In approximately 1880 he founded his own company. At that time the imprint was F.M. Lupton. The company was employing more than one hundred people at its three story building at 27 Park Place in 1882. Lupton's success in part can be attributed to beginning in 1882 the publication of the Leisure Hour Library. This long running series of popular and classic reprints was sold initially for three cents and was very financially lucrative for Lupton.

In the early 1880's Lupton established a number of periodicals including Fireside at Home (established 1880), Fairy Voices (established 1883), Rural Home Journal (established 1884), Tomahawk (established 1884). The People's Home Journal debuted in 1885.

He continued to add titles, series and authors' sets throughout the years. In 1892 he incorporated and the imprint for non periodicals and magazines changed to F. M. Lupton Publishing Company. For magazines and periodicals the imprint remained F. M. Lupton, Publisher.

In 1892 the newly incorporated firm began to publish a number of new publisher's series. 12 mos. in cloth included the Stratford Series, the Lenox Series and the Avon Series. In wraps it published the Bijou, Souvenir, and Elite Series. More series were added dater in the 1890's decade.

In 1902 Frank Lupton declared that there was confusion because there were two companies using the same name. One was F. M. Lupton Publishing Company and the other was F. M. Lupton, publisher. Thus, names were changed. The F. M. Lupton Publishing Company became the Federal Book Company whereas F. M. Lupton, publisher stayed in business to mainly print magazines and periodicals. Federal published a number of the series of its Lupton predecessor. These included the Windsor Series, Gilt Top Series, and the Acme Series. (See below for more Federal Book Company information.) It also added several new series until its demise in 1904.
1908 postcard- Lupton summer residence in Long Island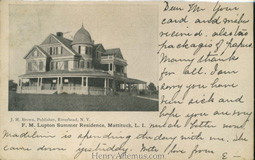 In 1910 Frank Lupton committed suicide. His obituary stated that the reason was "overwork, prolonged ill health and melancholia". If you want some gruesome details, one newspaper reported that his throat was cut and an open penknife was by his side. Apparently he was quite depressed by a stomach condition that was not improved by health spas he had visited in Europe. I am not an expert but suicide by penknife seems pretty suspicious to me.

Dating Lupton books can be difficult. The imprint and address on the title page can help.

Company name dates:

F. M. Lupton and Company 1875-
F. M. Lupton, Publisher -1882-1892
F. M. Lupton Publishing Company 1892-1902
Federal Book Company 1902-1904
F. M. Lupton, Publisher 1902-1929

Address dates:

37 Park Row 1875-1877
245 Broadway 1877-1879
27 Park Place 1882-1884
63 Murray Street 1885-1889
106-108 Reade Street 1890-1893 (There are some 1893 imprints noted at this address)
65 Duane Street 1892-1894
72-76 Walker Street 1894-1899
52-58 Duane Street 1899-1902
23, 25, and 27 City Hall Place 1902-


Here is a postcard from 1890 which notes the 106 & 108 Reade Street address.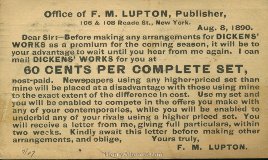 Here is a post-1902 advertising cover with the City Hall Place address.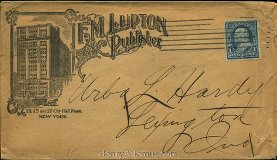 Most of Lupton's publishing output was in the form of series. These publisher's series of classic works of fiction, poetry, essays, etc. were printed in hard cover 12 mos and 16 mos. In addition a number of series in paperback were published. All of the series' titles are reprints.


F. M. Lupton, Publisher
This company was best known for its publication of the People's Home Journal. It was printed between 1880 ?1886 and 1929. Lupton also owned the Periodical Press. It also published McClure's Magazine which it took out of receivership in 1921. It incorporated in about 1922 and became F. M. Lupton. Publisher, Inc.
Federal Book Company (1902-1904)
In 1902 the board of directors of F. M. Lupton Publishing Company changed its name to the Federal Book Company. This allowed F. M. Lupton, Publisher to continue printing periodicals and magazines, while Federal published books. Apparently this was to alleviate confusion between F. M. Lupton Publishing Company and F. M. Lupton, Publisher.

Federal continued some Lupton series and added a number of new series.

The Acme Series, Windsor and Gilt Top are all holdovers from Lupton. New series include Souvenir Series, Red Series, New Souvenir Series, Popular Sets, Boys' Own Library, Boys' Popular Library, Girls' Popular Library, Horatio Alger, Jr. Series, Jack Harkaway Series, Henty Series, Henty Series-Presentation Edition, Medallion Series, Superb Series, Special Series, Popular, Library of Cloth Bound Books, Phoenix Edition, Southworth Series and Special List of Standard Works. There are also a number of paper bound series.